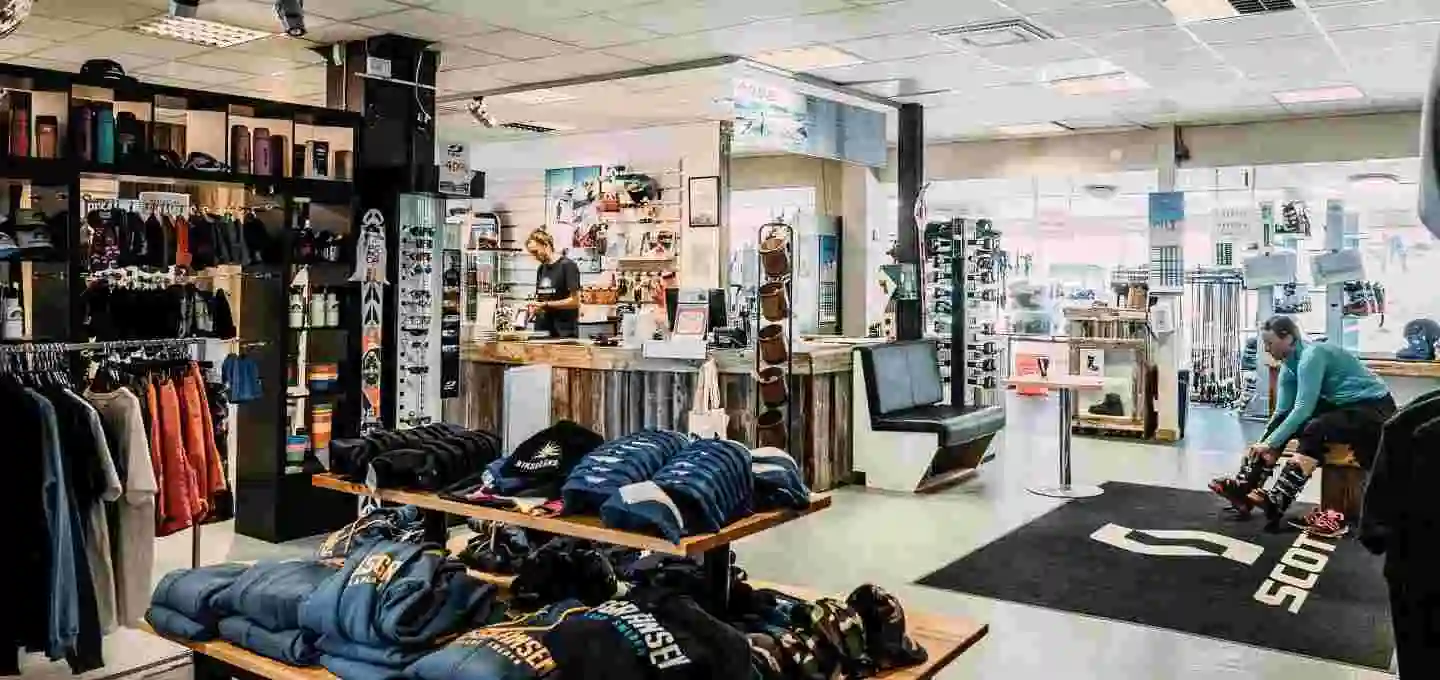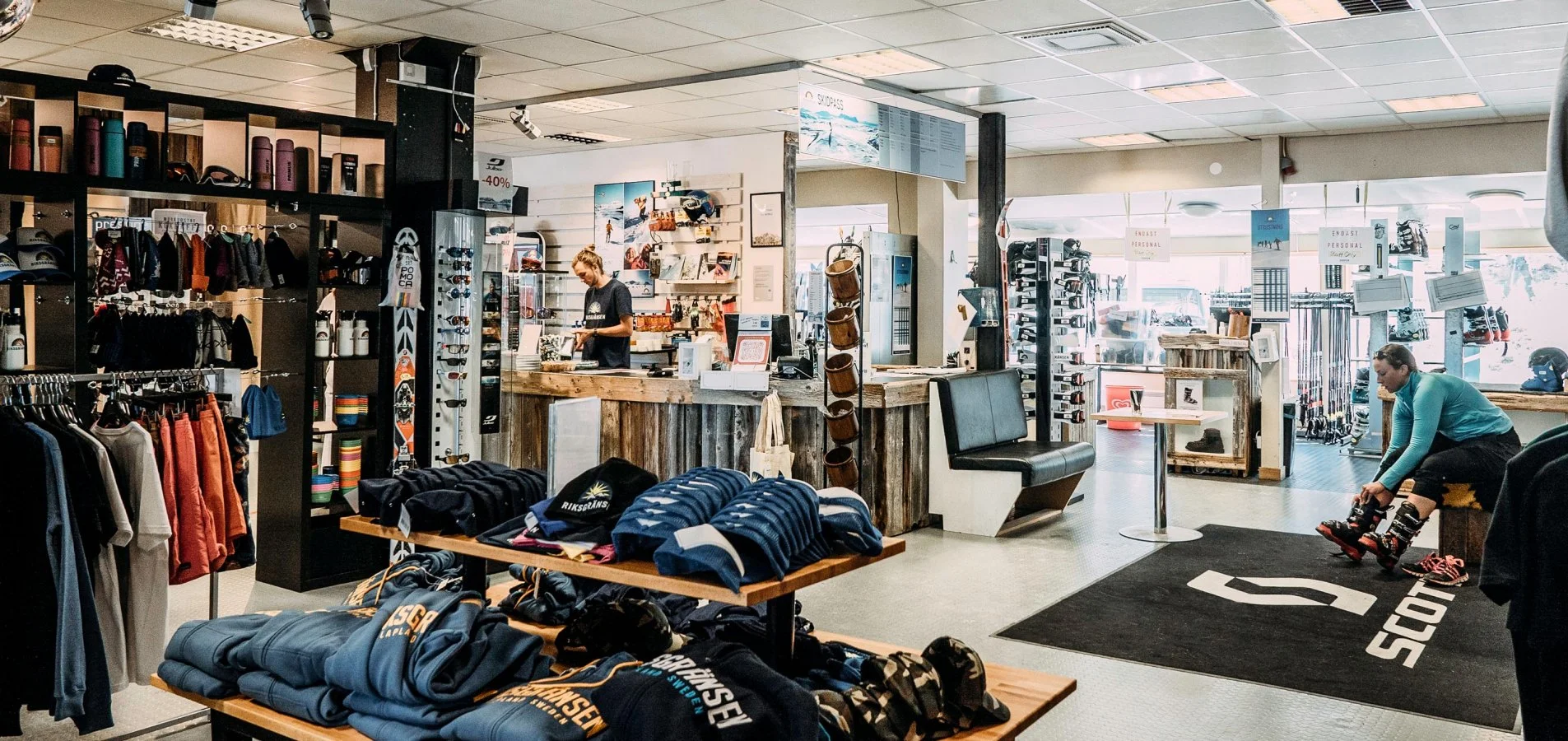 Sports shop and Ski Rentals
Shop
Our well-stocked sports shop, popularly known as "Schmedjan", can be found directly adjacent to the hotel lobby. Here you will find everything you could possibly need for your entire ski trip or a day of skiing. Jackets, ski pants, goggles, hats, gloves and helmets and more. Everything is carefully selected to meet the high demands that we at Schmedjan set, in terms of quality, functionality and design. Of course, we also have a large selection of high-quality profile clothing so we can gain free marketing from you showing us off as your favorite ski resort! It's also the very best stuff, obviously.
Rental
With us, you will find skis that suit all types of skiers, beginners as well as professionals. We have alpine skis, all-mountain skis, crazy-wide off-piste skis, snowboards, feather-light top touring skis and stable touring skis with a steel edge. Of course we also have ski boots that match the different types of skis. Our knowledgeable staff will help you find equipment that suits your level and your riding style perfectly. You can also rent mountain sleds.
Ski workshop
Keeping your gear at top performance levels? Do your friends tend to outpace you? Eating too much snow from caught edges? Do you get sore feet from skiing? Poor equipment can ruin the best day of skiing or even your entire skiing trip. Come to us and tell us about your problems and we will do everything we can so that you can enjoy and get the most out of your skiing in Riksgränsen.
For questions contact the shop at rgn.shopen@lplandresorts.se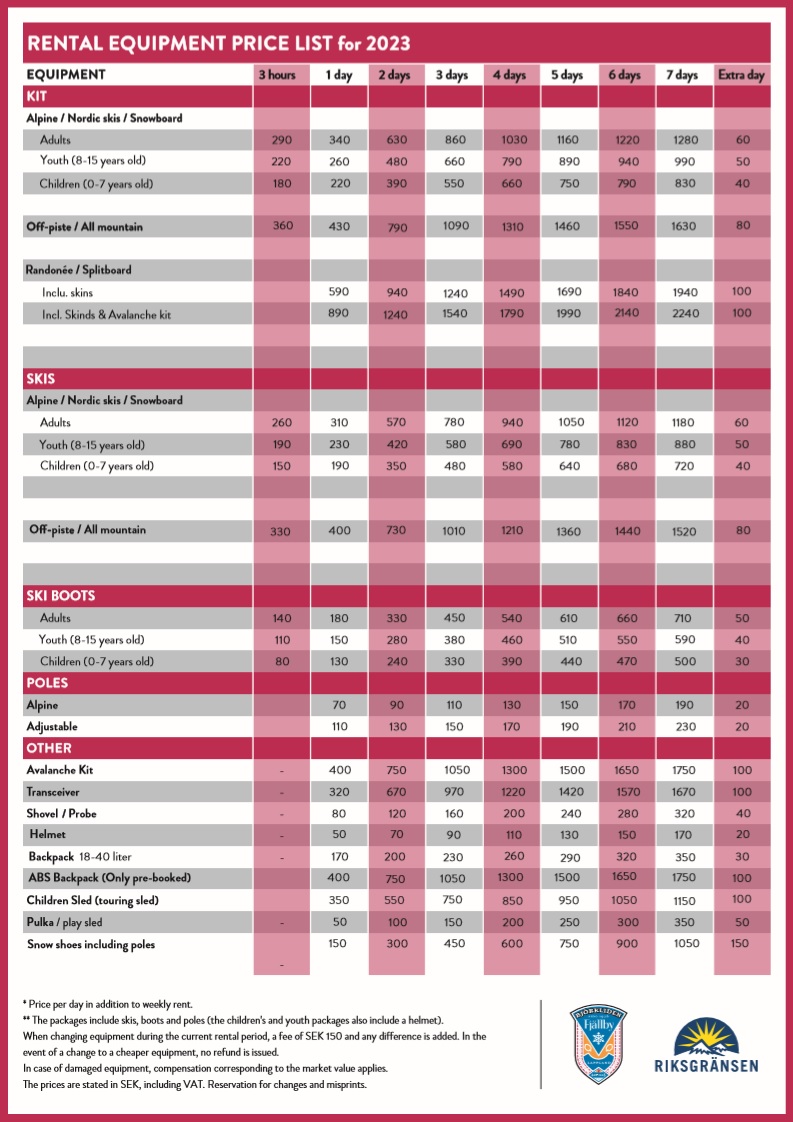 due to technical problems, price variations may occur in the pre-booking system, all prices apply acc. price list above.
Booking conditions for ski rental, ski package rental and equipment rental
Pre-booking of ski rental no later than 4 days before collection of skis / equipment. Between 4-1 days before arrival, you rent skis / equipment on site.
All pre-booked ski / equipment rent is paid directly in the sports shop at collection.
Cancellation of ski / equipment rent, the customer can cancel / rebook up to 3 days before the first day of validity and receive amount paid minus a handling fee of SEK 195, to the account notified to Lapland Resorts.
The entire pre-booking of the ski / equipment rent can be canceled, 3-1 days before collection against a booking fee of SEK 295.
In case of change / cancellation of part of existing pre-booking 3 -1 days before collection, a booking fee of SEK 195 per change / cancellation will be charged.