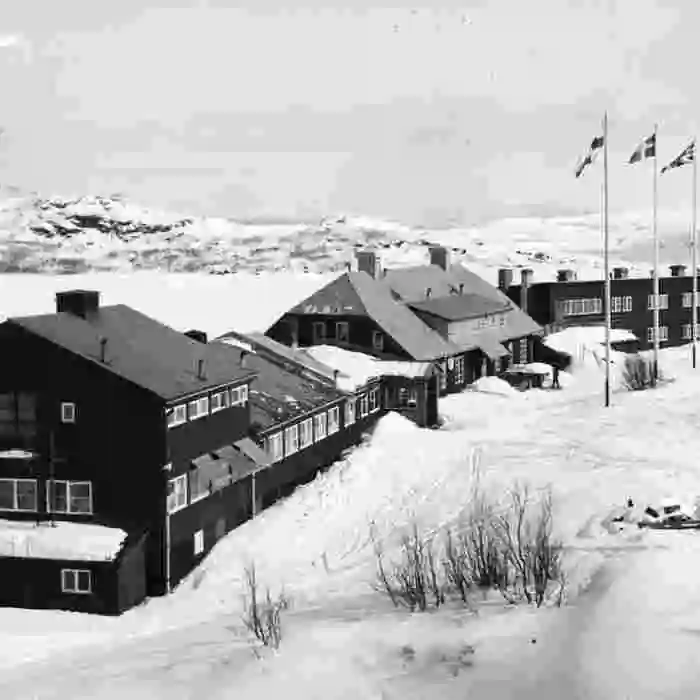 Riksgränsen is a special place, with a long and special history. The amount of snow that once depopulated the town has today attracted hundreds of thousands of visitors.
THE PROBLEM THAT BECAME AN WORLD ICON
In Riksgränsen we can be proud of Sweden's oldest ski school, but it was actually thanks to the construction of the Ore Line that Riksgränsen initially lead to a permanent population here.
At it's conception, the railway was used transport iron ore from the mines in the Ore Fields as early as November 1902, but the grand inauguration took place first in July 1903. This was because the then King Oscar II did not want to go up in the dark and cold, but preferred a visit under the midnight sun! For a great many years, the railway was the only way to transport oneself up to the Swedish border. The E10 highway that we use today was not completed until 1982.
In the 1910s, the snow conditions were so difficult that Riksgränsen was depopulated and the 500 locals temporarily moved away. However, the ski school started in 1934 by slalom pioneers Olle Rimfors and Sigge Bergman, who while down in the Alps had learned "modern" downhill skiing at the ski legend Hannes Schneider's ski school in St Anton am Arlberg.
Under the leadership of sports director Rimfors, many legendary Swedish ski instructors were trained, such as Bengt-Herman Nilsson, Karl Erik "KEP" Persson and Ulf "Mr Ski" Edborg. Many of the slopes in Riksgränsen are named after them. In 1952, the first lift in Riksgränsen was inaugurated, and in the winter season of 1968, the upper part of the lift was also inaugurated, which opened the area up for even more skiing. Since then, more lifts have been added and to the current level of six lifts.
Over the years, the Riksgränsen has changed from being a station on the border between Sweden and Norway, to being degraded to a side stop and depopulated when the Iron Line was electrified, to finally becomoing the winter sports paradise it is today. On a good day, there's slim competition for places that beat skiing in Riksgränsen, and that Riksgränsen has repeatedly won the award as Sweden's Best Off piste mountain is no coincidence. That Riksgränsen can usually also offer Midsummer skiing under the midnight sun is of course also something that for the unitiated, must be experienced.