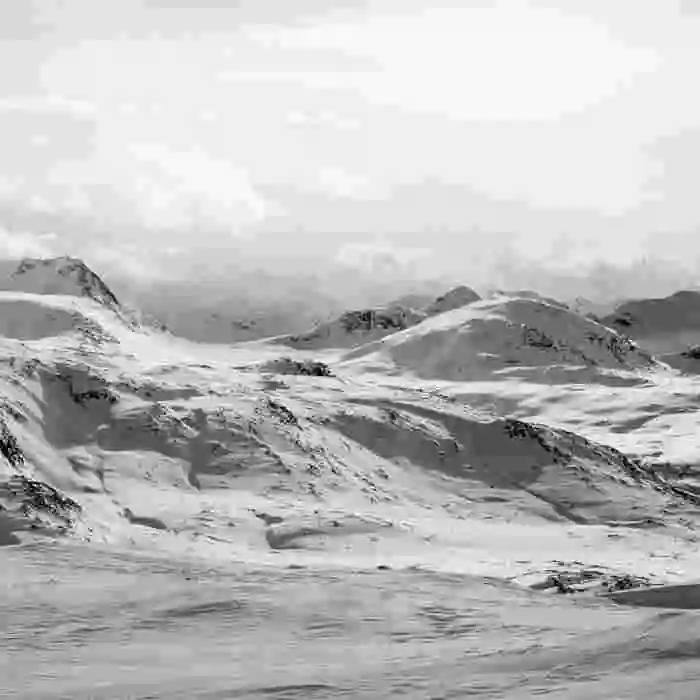 Far up in the north, in the northwest corner of our country, there are mighty mountains and large lakes. In the winters, there falls an ocean of snow; champagne powder that provides conditions for world-class skiing.
Welcome to Riksgränsen, Sweden's northernmost and most legendary ski resort. Nowhere else will you be so pampered in terms of feeling of freedom, natural snow and varied skiing terrain, on both the piste and off-piste. If you haven't been here already, you really have something to look forward to. If you have been here, you know what we are talking about. On a good day, there is no ski resort in Sweden that can match skiing in Riksgränsen.
We pride ourselves on this extremely efficient resort, designed to take advantage of every altimeter that is available in the ski area.
"High up on the mountain with clear sparkling snow, the exhilirating embrace of the shining mountains; this is a place where all who come find peace. The natural environment is absolutely amazing and the expanses of snowy wilderness unmatched."

All things Ski-Trip

WINTER
When the winter darkness has passed in February, Riksgränsen opens for the season. The snow that has stormed in throughout the autumn and midwinter now invites world-class skiing with classic mountain peaks such as Nordals and Vassitjåkka, heliskiing in an area as large as a smaller Central European country and sparkling champagne powder as far as the eye can reach.

SPRING
In Riksgränsen, Spring is definitely the best time for all kinds of winter sports. The sun is back to stay (at least until next year!). The days get longer and you can be out from early morning until late evening. Decide for yourself if you want to spend your days exploring the plentiful lift-borne skiing, or if you want to go on adventures around the magnificent peaks in the immediate area. Towards the end of the day, the sky and mountains are colored by all the yellow, orange, pink, purple and blue tones of a multi-splendoured jewel. Towards the end of the spring, the National Championships are organized, the competition that ends the season for most of the Swedish freeride elite takes place. 

SUMMER
The midnight sun has arrived and daylight shines down without pause. At the midsummer celebration, you'll find plentiful herring and potatoes (and probably schnaps) while the lifts spin under the midnight sun. At the top of Riksgränsen, you'll hear locals singing about small frogs, and visitors are spontaneously offered to dance around the bar on skis and snowboards. The mellow tones of summer invite guests to ski until the last snow has melted, and then, ski boots are replaced with hiking boots and the alpine equipment with bikes, kayaks and fishing rods, for a whole new kind of adventure

AUTUMN
As summer draws to a close and autumn knocks on the door, BAMM is organized, a mountain orienteering marathon that won't soon be forgotten. Lace up your running shoes, let your feet fly over the bare mountain peaks and enjoy the epic views. The mountains are still warm, the lakes refreshing and the sun shines with its last rays before it goes to bed for the year, only to wake after the next midwinter again.
One destination two resorts
ONE SKI PASS FOR TWO RESORTS
It total we have 30 groomed slopes, 53 km of prepared cross country tracks, seemingly endless off-piste skiing and a menagerie of proud peaks to conquer beyond the lifts. Our ski passes give you access to ski in both Björkliden & Riksgränsen.
FREE TRANSFER BUS
Lapland Resorts' transfer bus takes you between Riksgränsen and Björkliden, so make sure to experience both ski resorts during your visit with us! The transfer bus is free when you show your valid ski pass.
A WIDE RANGE
Family time, nature experiences, world class skiing or night club? We also have 10 restaurants and a diverse range of accommodation for whether you're travelling on a budget or searching for luxury. Björkliden and Riksgränsen offer something for all.